Web Server Statistics for jsayles.com
  Monthly Report  
The Monthly Report identifies activity for each month in the report time frame. Remember that each page hit can result in several server requests as the images for each page are loaded.
Note: Depending on the report time frame, the first and last months may not represent a complete month's worth of data, resulting in lower hits.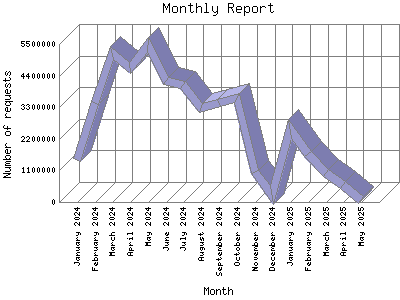 Month
Number of requests
Percentage of the requests
1.
September 2022
341,088
86.32%
2.
August 2022
54,017
13.68%
Most active month September 2022 : 341,088 requests handled.
Monthly average: 197552 requests handled.
---
This report was generated on September 25, 2022 05:25.
Report time frame August 28, 2022 00:02 to September 23, 2022 23:58.