Web Server Statistics for jsayles.com
  Quarterly Report  
The Quarterly Report shows total activity on your site for each quarter of a year. Remember that each page hit can result in several server requests as the images for each page are loaded.
Note: Most likely, the first and last quarters will not represent a complete quarter's worth of data, resulting in lower hits.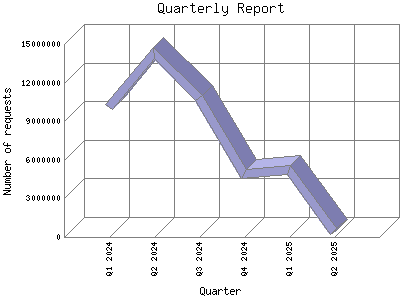 Quarter
Number of requests
Percentage of the requests
1.
Q3 2022
395,105
100%
Most active quarter Q3 2022 : 395,105 requests handled.
Quarterly average: 395105 requests handled.
---
This report was generated on September 25, 2022 05:25.
Report time frame August 28, 2022 00:02 to September 23, 2022 23:58.